Dark Resurrection Crew: The Iron Ring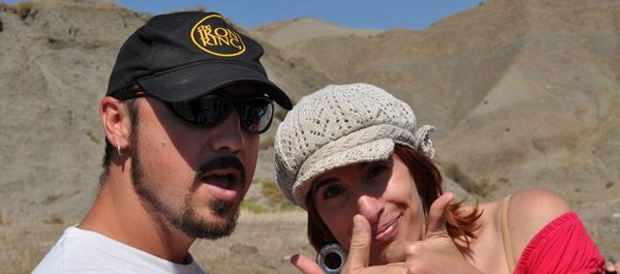 1- First of all, tell us something about you!
The Iron Ring has been dealing with costumes and props for more than a decade. We started with the historical reconstruction but soon we spread towards other things, such as: fantasy, science fiction and other types of "genre" costumes and props.
2- How did you join the group of DR?
We were already aware of Vol.1, and when we found out that even Vol. 0 was in process, we immediately called Angelo Licata, telling him that we absolutely wanted to take part to the project. At first we started to work on a couple of costumes, however in the end we created 17 new costumes!
3- Can you tell us your role within the production?
We made all the costumes of those Daikas who acted like true stuntmen because they fought and fell down for real, as well as those who had close-ups with details. We have also created Nina Senicar's costume, and we have also prepared the online tutorials for all those fans who wanted to create their own Daikas costume. Moreover, we have been also on the set, ready to dress, undress and repair whatever type of costume, during the film-making process.
4- What has given you personally the experience of DR?
DR has been a "strong" experience, we have worked hard because we have always believed in this project. Our purpose was to grow professionally as film costume & prop makers. On the set, we met so many great people, who have been fully competent and helpful. The passion for this project has been the driving Force of everybody!
5- Tell us a personal, funny and meaningful story in short, a special moment at your choice while you were working on DR.
John (prop maker): I have never put so many self-tightening strips in my life as during the shooting days!
Marina (costume designer) convinced the guys who played as Daikas (who were tough-looking fighters) to make cute faces while wearing the armour !
It's been a gorgeous experience, we have made new long lasting friendships. Special thanks to Angelo Giampietro who welcomed us in his home with his wonderful cats!