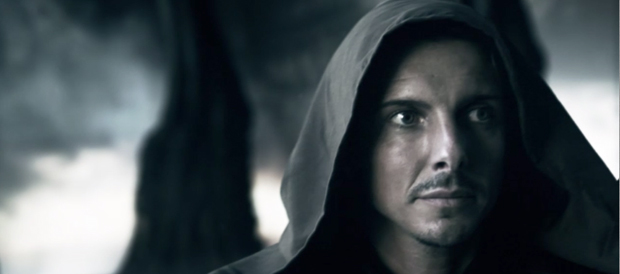 Gash is a native of the planet Keys, which is the capital of the Jedi Republic. His father Raimir was a Jedi to which the Council had given the task of Guardian of the northern borders. Gash grew up in this desolate area, raised by his father, who has always been his only point of reference. When the imperialist forces attempted the siege on Keys, Raimir had to deal alone with the first enemy legion.
Raimir fought with honour, however the huge numerical superiority of the imperialists led the Jedi to his inevitable death. Gash, who at that time was a six-year old child, watched helplessly his father's death. With his eyes glancing downwards, he came closer to the corpse of Raimir, under the amused eyes of the imperialist soliders. He picked up his father's sword and raised his eyes towards the people who had killed him. By watching the child's gaze, the imperialists immediately realized that there was nothing funny in his eyes. Gash slaughtered the entire legion only by himself. The teachings of his father and the pain suffered for his loss, gave him the strength to accomplish this titanic enterprise. Gash managed to drive Raimir's Speeder to the headquarters of the Council so that he could warn the Masters about the forthcoming invasion. Thanks to him, the planet Keys kept safe and sound.
The Council decided to officially educate the child to the Force in a sign of gratitude and appreciation for the courage shown by Gash. Despite the legendary heroic action he made as a child Gash, growing up without the important presence of his father, did not get great results from his Jedi training. He keeps on using the sword of Raimir, his only memory, although now it has only become a broken, almost unusable old relic.
According to the Council's orders, he takes part to Sorran's mission. Gash however, interprets this behavour as a punishment against him for his poor results. He feels a tough competition with Thor, who according to him might have an unfair advantage over him just because he might be Sorran's protégé. At first he gets on well with Nilah, however when he understands the special attraction she feels for Thor, he gives up fitting into the group, anxiously hoping that this useless waste of time from one wreck to the other finally comes to an end.